Safety is vital to any workplace, but in the timber industry, where people work with heavy products, heavy machinery and sharp objects, it requires even more attention.
At the four UPM Timber sawmills in Finland, several hundred employees process large quantities of Nordic pine and spruce into quality redwood and whitewood sawn timber every year.
Olli Oikari is the new safety and security manager at UPM Timber. He started in his new role in August and is currently settling into what is a crucial role. Wearing a bright yellow security vest, he is sat behind his desk at the Kaukas sawmill in Lappeenranta, south-east Finland. Each sawmill has a safety manager and he coordinates between them. While the frequency of accidents is low in these sawmills, there are always risks in this industry, he explains. "It's our responsibility to do everything we can to prevent any accidents."
Sawdust and woodchips
First of all, everyone needs their safety gear on in the sawmill at all times: a safety vest or jacket in bright colours, hearing protection, special gloves and safety shoes, a helmet and eye protection.
The sawmills are built on several levels, which means there are lots of stairs. "Our workers walk up and down the stairs dozens of times a day," says Oikari. "So, we need to keep the walkways clear of sawdust, chips and other materials, like tools, to avoid slipping and falling incidents. That requires constant attention and work."
The workers also need to be extremely careful and wear a safety harness when changing the band saw blades that are used to saw log into sawn timber products. Every shift, these large and heavy tools – around 6 metres long and 20 kilogrammes in weight – need to be changed a few times for maintenance and sharpening.
The forklifts and wheel loaders that move logs and timber pieces form another risk. "Of course, our workers have their pedestrian lines, but they still always need to pay attention to heavy machinery."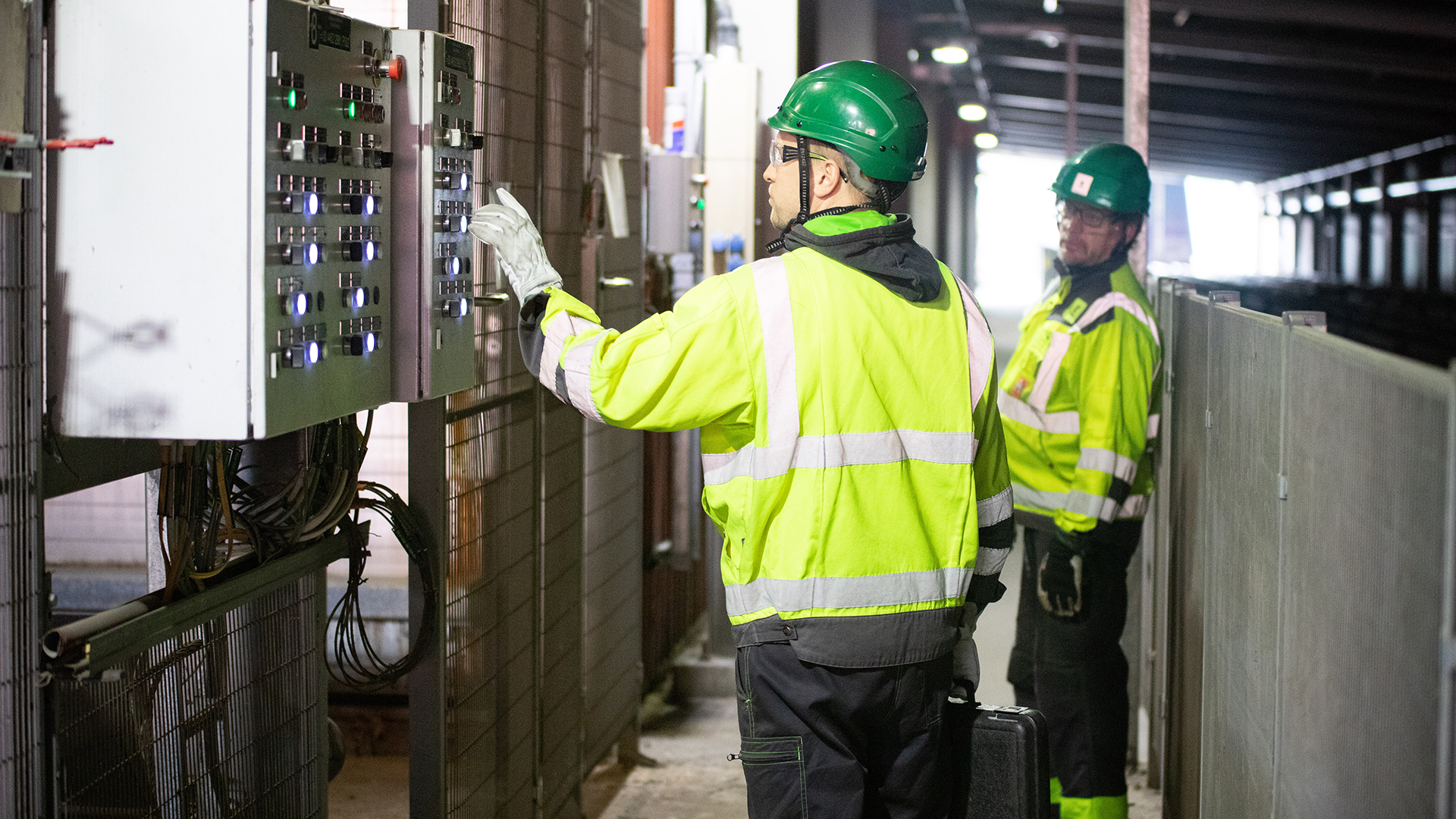 Safety inspections are carried out regularly, to make sure each sawmill is running smoothly.
New staff
Another challenge for Oikari and his team is the fact that around 10 per cent of the staff are currently leaving for retirement yearly. And they need to be replaced. "We have to teach the new personnel how to produce quality products and to carry out the sawmill tasks safely as well."
Oikari and his colleagues regularly assess the risks of each task. "The risks need to be very clearly defined and communicated to our people, both verbally and in writing. It's important to make sure everyone is aware of the risks and has the right thinking, attitude, beliefs and practices," he emphasises.
Tasks that aren't carried out frequently require special attention. "When you leave home to buy groceries, you might have seven things in mind that you need to get," Oikari explains. "But you only end up remembering, for example, five of them if you don't write them down. The same thing goes for assessing risks before starting an unfamiliar task. That's what a quick risk assessment check list is for."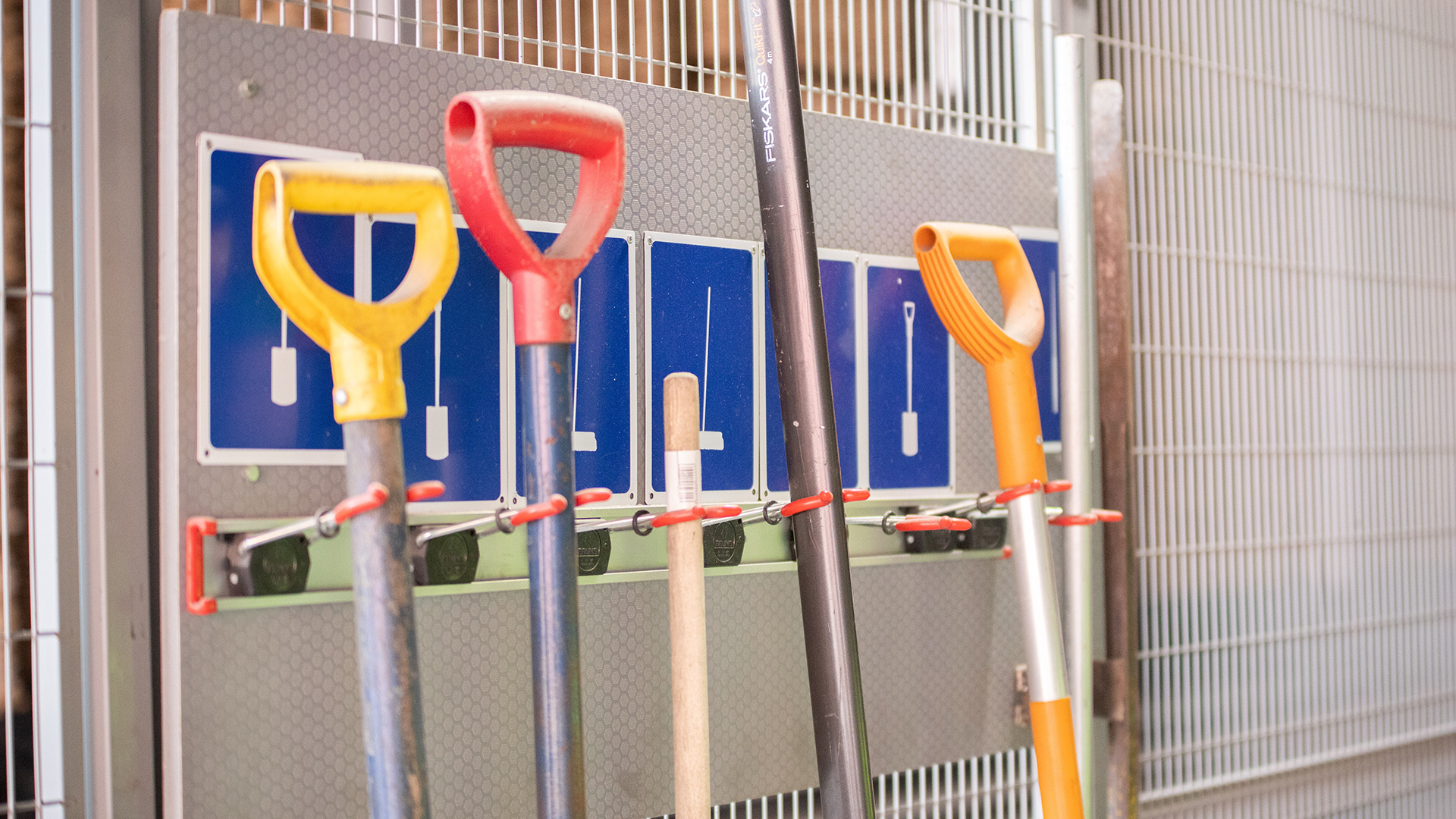 Safety equipment has to be clearly marked and, in some cases, colour coded.
Safety culture
The safety managers try to communicate daily with staff about the risks. "For example, this Monday we had a 15-minute production stop to talk about falling and slipping." In addition to regular safety talks on various topics, specialized safety training is organised on topics like use of fall protection gear or chainsaws. And, of course, enough employees need to have their first aid diploma and know how to use a fire extinguisher.
UPM Timber also continually works on making the factories safer by updating the safety technology to meet today's standards. For example, by adding fences and light beams that prevent workers and visitors from entering dangerous areas. However, Oikari says: "Even if we invested 30 million euros in one sawmill, we'd still need to keep paying attention to every little detail."
This November, UPM Timber applyed for the ISO 45001 Occupational Health and Safety certification. "We have a long history in safety management," Oikari says. "It'll require work, and we'll probably have some things to correct, but I'm confident we'll acquire it."
2021
His goal is to further improve the safety culture at the sawmills in the coming year. "We're planning to simplify our safety instruction structure and move from sawmill specific safety instructions to common UPM Timber level instructions wherever it is reasonable," he says. "This will make safety instructions more accessible and up to date for users and ensure the best safety practices at all our sites. We must also solidify safety moments as a natural ongoing process. It would also be good to significantly improve worker participation in safety work, especially by raising the role of blue-collar safety representatives."
Generally, accidents happen when something unusual occurs, or when people are stressed or hurried, he explains. "We need to make sure people also remember and follow the safety rules at those critical moments. Even in a challenging environment like ours, work can be safe when everyone is committed to it."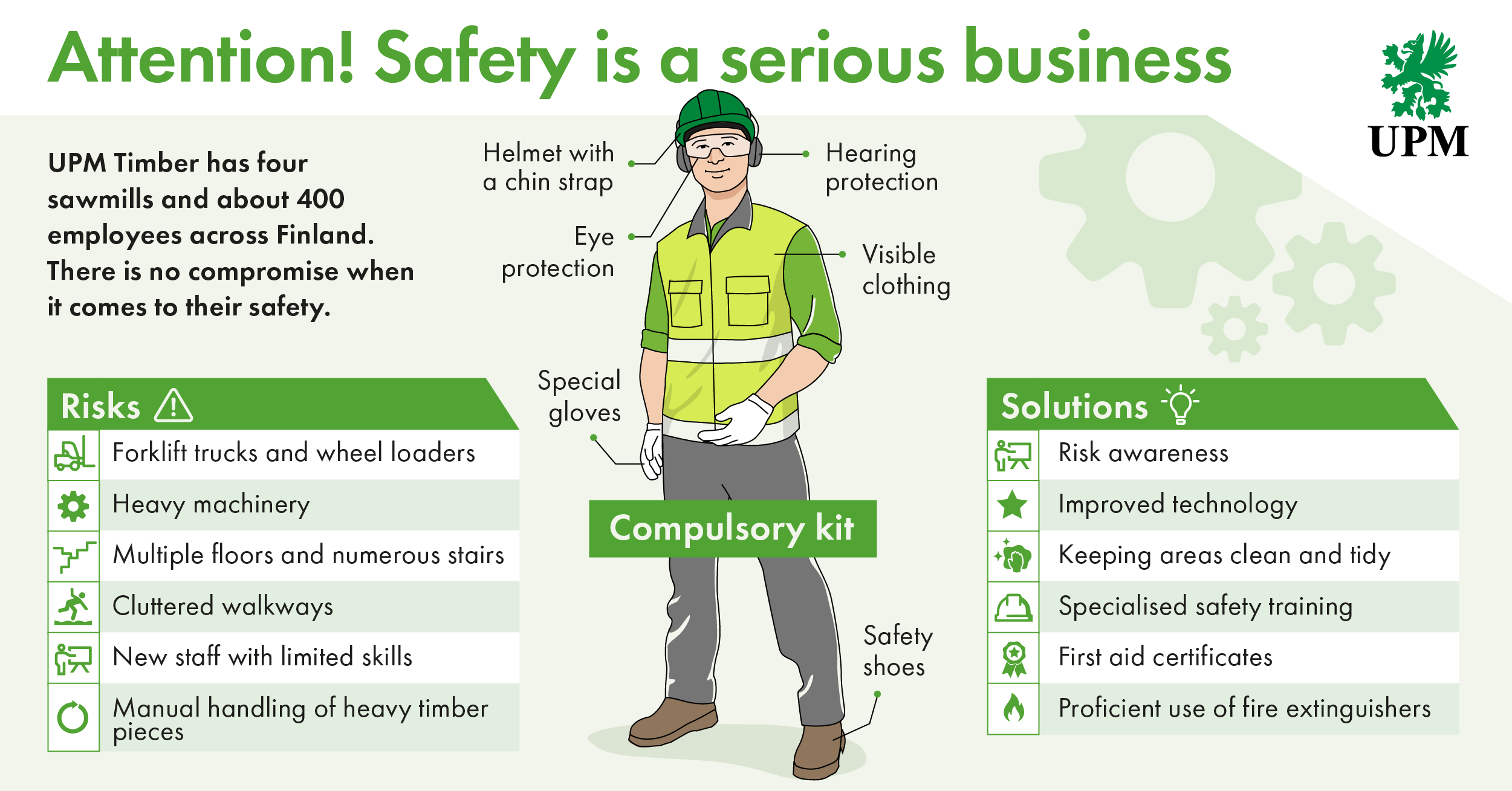 Text: Thessa Lageman
Photos: UPM Timber, Annika Vesterinen