UPM Timber's customers are very satisfied with our service, as shown by the results of our customer survey 2022. We asked our customers to rate us based on our products and delivery, service, as well as their relationship with UPM Timber.
The survey was held for the 5th time in the same format. Since 2014, it has been sent out to our customers once every two years with the same set of questions. The response rate was good this year, as it has been in the previous surveys too. This time most responses came from Finland, United Kingdom, France, and China.
UPM Timber's Net Promoter Score (NPS) improved from last survey. This year it was 64, which is a significant improvement from the 2020 result which was 49.
Satisfaction with products and delivery improved
Customers' satisfaction with the products and delivery has also improved from the last survey. The highest scores in this category went to the consistency of grading being acceptable, products meeting quality expectations, deliveries containing the ordered items and receiving information about delivery changes accurately and early enough.
The results in all of the questions in this category improved from the last survey in 2020. The largest improvement was in receiving information about delivery changes accurately and early enough. Customers in Baltics, Finland and the UK were the most satisfied with our products and delivery.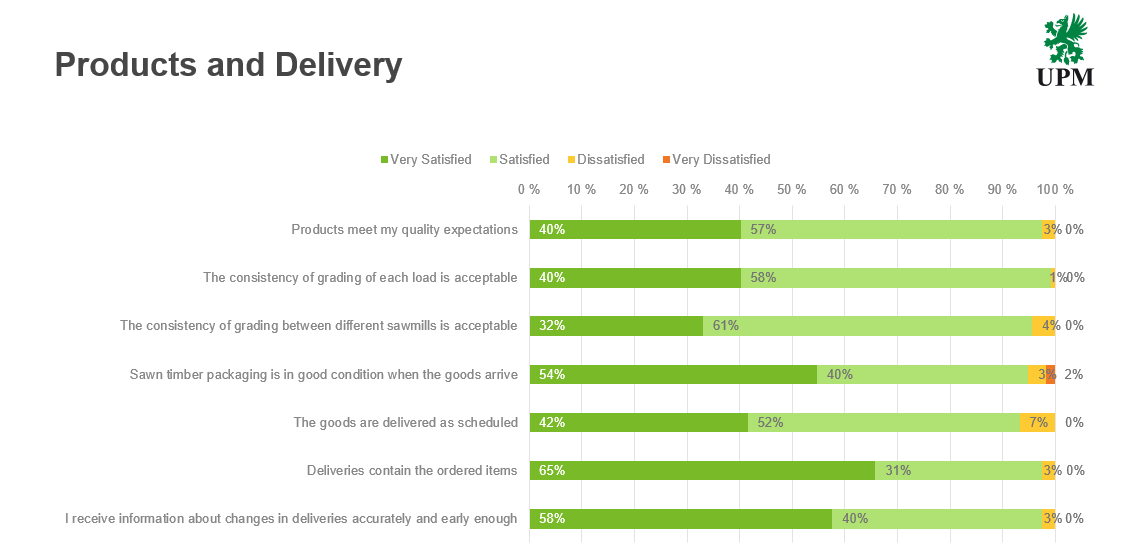 Service meets expectations
Like two years ago, this year too our sales personnel received praise from the customers. The highest ratings in service went to sales persons' understanding of the products' properties, clarity of whom to contact in different situations, and sales assistants being service-minded and professional.
Our customers' satisfaction with the service they receive has also improved slightly from 2020. Customers that were the most satisfied with our service are from Baltics, China and the UK.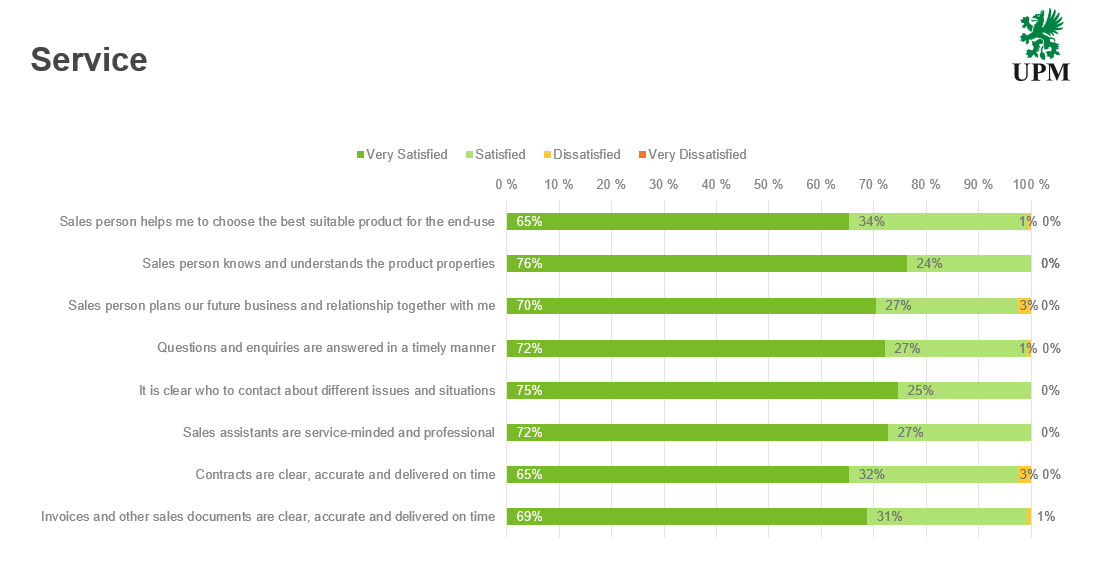 Mutually valuable relationships with customers
Our relationships with our customers are absolutely key to our business at UPM Timber. Judging from the results of our customer satisfaction survey, it seems that the appreciation is mutual. As many as 97% of the customers who responded were either satisfied or very satisfied with their company's relationship with UPM Timber. This is an improvement from the last survey in 2020.
The satisfaction is also reflected in the improved NPS score 64. The NPS score is a value between -100 and 100, and it represents how likely our customers would recommend a co-operation with us to others.
We value our customers' feedback highly
Earlier this year in August we launched our new customer promise Setting the Standard. We asked a new question in the survey about the promise. 65% of respondents said they have heard about it. We will continue to inform our customers about our work on sustainability in line with our Setting the Standard promise and how it can benefit our customers too. One example is our new co-marketing platform, which contains materials for our customers to utilize in their marketing activities.
Feedback on how our customers think we are doing is key for us to develop our ways even further. It is a cornerstone for UPM Timber that our customers are satisfied with us and want to collaborate with us also in the future. We want to be setting the standard in reliability, quality and openness. We value the responses we have received very highly, and will consider them when making decisions in the future as well. This way we hope that this level of satisfaction will remain in the future.
Read about our environmental product declaration
Read about our timber wrapping recycling collaboration with Lassila & Tikanoja and customers