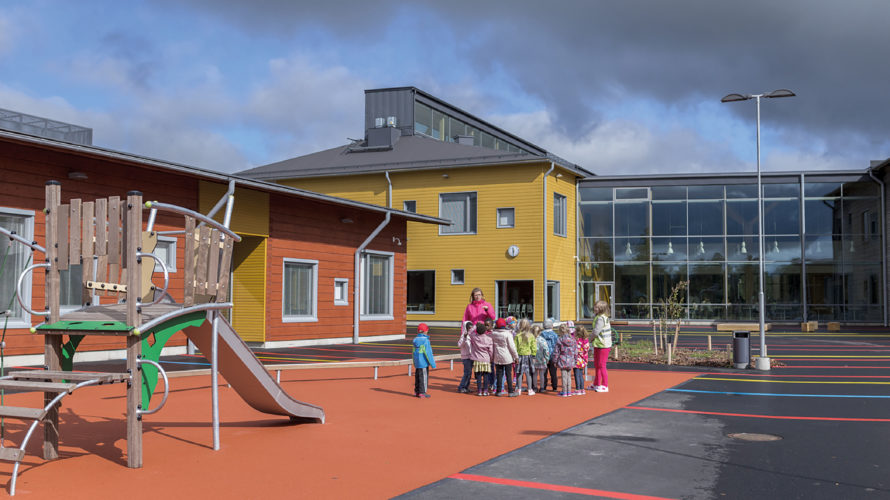 Both students and teachers are happy with the new Pudasjärvi comprehensive school completed in 2016. The new, world famous school is made of an ancient natural material: wood.
We chose a log construction to combat health problems resulting from poor indoor air quality. The old school was made from concrete, and we had dozens of students and teachers suffering from allergic reactions caused by poor indoor air. These problems are now history," says the school principal Mikko Lumme.
The walls "breathe" so there is no risk of mould accumulating in the structures and causing health issues.
Thanks to the excellent acoustics and attractive finish, the log school in Pudasjärvi has a very cosy feel. "
We have received excellent feedback on the pleasant surroundings from students and staff. The acoustics are also greatly improved," says Lumme.
With its neutral colours and smooth surface, wood is a naturally soothing material. It is scientifically proven that in wooden buildings, heart rates become more regular and stress levels are reduced.
"The logs preserve the natural colour of the wood, so the building feels like a home or even a holiday house," adds Lumme.
The Pudasjärvi comprehensive school is the world's largest school built from logs. The Log Campus is divided into four buildings, three of which are constructed entirely from logs. These three buildings house a primary school, a lower secondary school and an upper secondary school. The kitchen and emergency shelters are made of concrete. The estimated lifespan of the building is 150 years.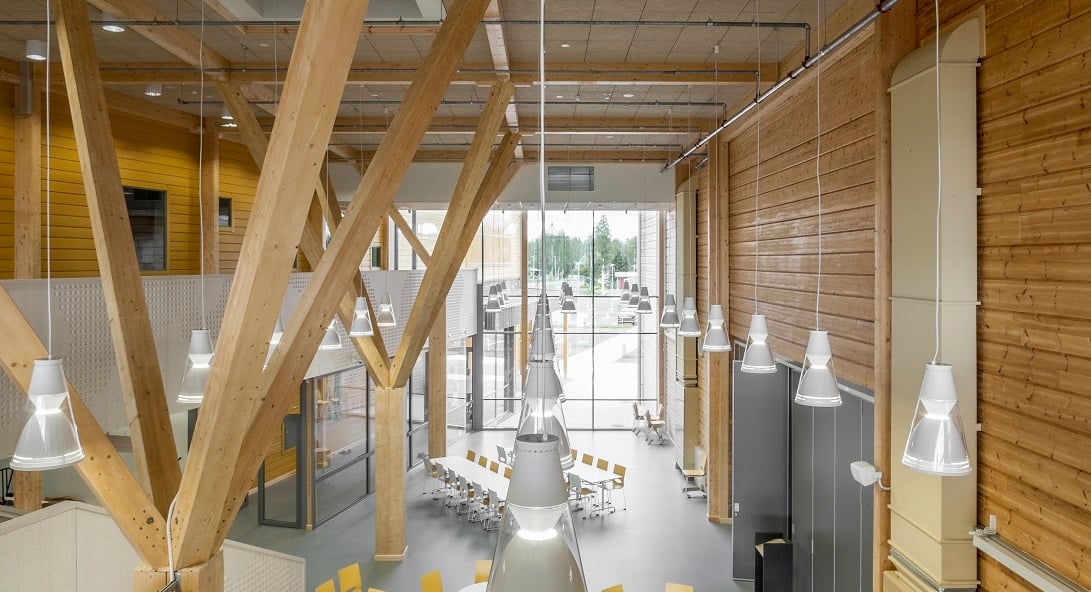 The Pudasjärvi comprehensive school is the world's largest school built from wood.
Grabbing headlines worldwide
The Log Campus has generated a great deal of interest both at home and abroad, attracting approximately 5,700 visitors to date.
"About one third of Finland's municipalities have sent their local policymakers to visit. The number of domestic visitors is diminishing, but international interest is still growing. We've had about 2000 foreign visitors," says Lumme.
In Finland, logs are becoming an increasingly popular construction material for schools, office buildings and retirement homes. Legislation and regulations governing energy efficiency are moving in a direction that supports the increased use of logs in the construction of public buildings.
The timber structures of the campus project in Pudasjärvi have been manufactured by Kontiotuote and the sawn timber was supplied by UPM Timber. The main contractor was Lemminkäinen Oy.
Read more:
An award-winning wooden school is a pleasant and healthy learning environment
The Finnish Forest Association visited the campus in March 2016
UPM Timber supplies sawn timber for the construction of ecological log houses
Text: Vesa Puoskari
Photos: Raimo Ahonen & Kontiotuote Oy