UPM Timber's sawn timber is used in many different applications depending on the needs of the customer. Large quantities of domestic certified timber are used in the log house industry.
UPM has four sawmills in Finland, producing mainly redwood and whitewood grades for further processing for various applications. One of the end uses for sawn timber is the construction of log houses, which has increased its share lately, especially in public construction projects. The log house industry is one of UPM Timber's largest domestic sales segments, where the company has been systematically working to increase its share.
"The new construction techniques, sustainability, indoor air quality and "breathability" of buildings have created new possibilities even for very large log construction projects", says Arto Uusitalo, Regional Manager for the domestic market at UPM Timber.
For example, a growing share of day care centres are constructed with logs instead of the traditional wood and stone, and recently the world's largest log school was constructed in Pudasjärvi, Finland.
The rise in the popularity of log construction is due to its health benefits, ecological aspects and long life span. Log buildings are suited for both private homes and public buildings. A log house made of solid wood is very durable and provides good indoor air quality. The log walls balance indoor air humidity and temperature to an optimal level, thus improving the air quality.
There are very strict requirements and standards for raw material used in log houses.
"The log house industry primarily uses centre-cut redwood and some whitewood grades due to their light colour. The centre-cut redwood has relatively large knots that are suitable for processing. It is very important that all raw material produced in different sawmills is uniform in quality and evenly dried to the correct moisture content", Uusitalo says.
"Although authorities have set strict requirements for the raw material, we have been able to find viable solutions together with our customers", he adds.
Long history as a sawn timber supplier
UPM Timber has a long history of supplying certified sawn timber to the Finnish log building companies Honkarakenne and Kontiotuote. Collaboration with Honkarakenne started in the 1970s and 80s, and has intensified further during the last few years.
"We have been working together for a long time in good spirit. Our main requirements have been reliable deliveries and top quality, and we have been very satisfied with both", says Jukka Valtonen, Purchasing Manager at Honkarakenne.
The majority of the sawn timber supplied to Honkarakenne is redwood timber produced in the UPM Timber Kaukas sawmill in Lappeenranta, Finland. Honkarakenne further processes the timber into construction material for public buildings, houses or cottages.
There is much high-quality log construction knowhow in Finland, and the share of log building in the private home construction industry is growing.
"Domestic construction is still the main focus of the log house industry, but we have also been exporting log houses for a long time. Export offers us many growth opportunities", Valtonen says.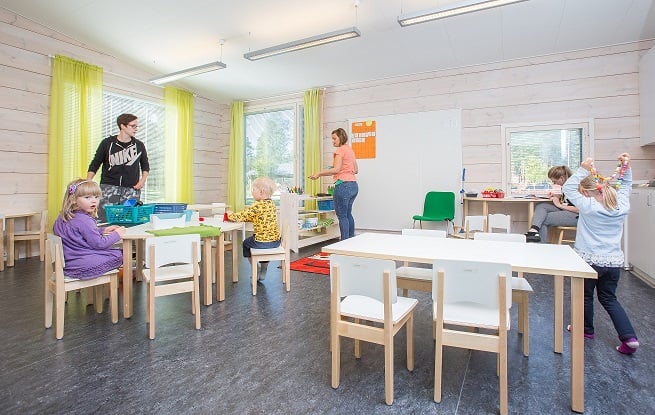 Log day care center is an investment in the well-being of children and employees. Hiirulaisen day care center was built by Honkarakenne and the sawn timber was supplied by UPM Timber.
Read more: An award-winning wooden school is a pleasant and healthy learning environment
Photos: Honkarakenne Oyj