Production at UPM sawmills is now running completely on renewable energy. Since the beginning of 2020, no fossil energy sources have been used in production at any of the company's four sawmills.   
Fossil-free production enables UPM to produce even more sustainable timber products with the smallest possible carbon footprint, thereby contributing to climate change mitigation. The reduced carbon footprint of UPM's timber products also helps our customers reach their respective emission reduction targets.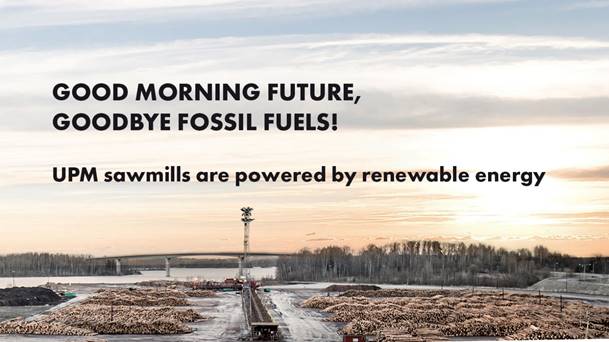 "We at UPM have set the ambitious target of achieving a 65% reduction in the CO2 emissions of fuels and purchased energy at our production facilities by 2030. This target is part of the UN Business Ambition for 1.5°C that we signed in January 2020, under which we are committed to taking concrete action to limit climate warming to 1.5°C. UPM Timber has now clearly surpassed this target," says Sami Lundgren, Vice President, Responsibility at UPM. 
UPM has systematically worked to achieve a transition to fossil-free production at its sawmills. Both thermal energy and electricity are used at all UPM sawmills. The Korkeakoski sawmill produces thermal energy from bark and wood chips at its own bio-heating plant. The Seikku sawmill in turn uses renewable energy produced from its own sidestreams by the Pori Energia power plant. At the sawmills located in the Pietarsaari and Lappeenranta mill integrates, we only use renewable energy produced onsite at the pulp mills. The purchased energy needed in production is emission-free and verified by a Guarantee of Origin (GO) granted by Fingrid Oyj. A GO is granted for Finnish electricity produced exclusively from renewable sources.   
 
"The transition to fossil-free production at UPM sawmills is a significant step towards carbon neutrality. Paired with our sustainable forest management and innovative product development, our ambitious emissions reductions will make us and our customers sustainability frontrunners," Lundgren concludes.  
For further information please contact:
Sami Lundgren, Vice President, Responsibility, UPM, tel. +358 40 580 0910
UPM, Media Relations
Mon-Fri 9:00-16:00 EET
tel. +358 40 588 3284
media@upm.com
UPM Timber produces redwood and whitewood sawn timber for the joinery, packaging, distribution, and construction industries. Our sawmills are powered entirely by renewable energy. We use certified Nordic raw material and the latest sawmilling techniques to produce high-quality sawn timber that fulfills our customers' requirements. UPM Timber has four sawmills in Finland with a total annual capacity of 1.5 M cubic metres and its own sales network in Europe and Asia. UPM Timber employs around 400 people and has its headquarter in Tampere. www.upmtimber.com  
UPM
We deliver renewable and responsible solutions and innovate for a future beyond fossils across six business areas: UPM Biorefining, UPM Energy, UPM Raflatac, UPM Specialty Papers, UPM Communication Papers and UPM Plywood. As the industry leader in responsibility we are committed to the UN Business Ambition for 1.5°C and the science-based targets to mitigate climate change. We employ 18,000 people worldwide and our annual sales are approximately EUR 8.6 billion. Our shares are listed on Nasdaq Helsinki Ltd. UPM Biofore – Beyond fossils. www.upm.com
Follow UPM on Twitter | LinkedIn | Facebook | YouTube | Instagram | #UPM #biofore #beyondfossils