2018 is flying by, and the first two quarters are already behind us. The experience in the sawn timber market during the first months of the year has, on the whole, been positive. Global demand for both pine and spruce has been high, and finding the correct balance between supply and demand has been particularly challenging at times.
Demand has exceeded supply, and this has pushed us at UPM Timber towards making continuous improvements in production, supply chain, logistics and sales. In doing this, we have been able to stand by our customer promise and deliver the level of service you expect.
Based on the customer feedback we have received from you, we can proudly say that we have been very successful in our operations. Obviously, we can't rest; we at UPM Timber are aiming to constantly develop our operations so that we can provide an even better service to you, our customers.
Despite some potential risks on the horizon in relation to the world economy, for example the looming trade war between the United States and China, I am extremely confident that the development curve of the sawn timber business will remain positive for the rest of the year. As for 2019, any clouds on the horizon do not seem too dark. The most significant reason for this is our customers' excellent and constantly developing competitive status in their own markets. We at UPM Timber want to keep on supporting you in your path toward positive development. I promise that we will do everything we can to achieve an even better outcome in all of our operations — so that we can remain your number one choice when selecting sawn timber suppliers and partners.
The summer holiday season is in full swing in Finland, but business will obviously continue throughout. Our employees across the organisation will stagger their well-earned holidays, and there is a detailed plan in place for maintenance shutdowns in our sawmills. These measures have been taken in order to serve you as efficiently as possible without any interruptions during the summer. Having a holiday gives our employees the chance to recharge their batteries so that we can continue to meet any challenges we face and improve our customer focus.
I want to thank you for being our customer and for your collaboration over the first half of 2018. I wish both our customers and our employees a great summer. Let's raise our collaboration to the next level during the rest of 2018, so that together, we will be more than ready to face future challenges — which will surely be more positive than negative.
I wish you all a wonderful summer!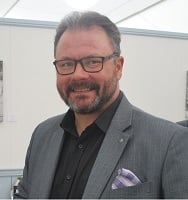 Mikko Hyvärinen
Director, Sales & Supply Chain Management