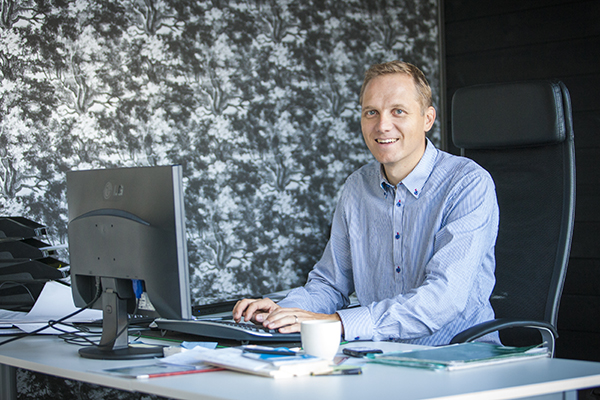 For many years, UPM Timber has been a close partner of Finnish Siparila Ltd., and recently the strong cooperation has deepened even further. Siparila uses UPM Timber's raw material in their further processing, including exterior paneling, interior panels and lists for the needs of the trade and construction industry. The company has four factories in Finland and employs 130 wood industry professionals.
- It has been great to build a partnership with UPM Timber for years, and now we may be able to expand it further in the near future. We recently bought a new large planing factory, and we will need high-quality raw material for the new products, says CEO Juha Sojakka from Siparila Ltd.
UPM Timber supplies mainly whitewood to Siparila from the Alholma and Seikku sawmills, as well as smaller volumes of redwood from Korkeakoski sawmill.
- UPM Timber has endeavored to develop its customer services through long-term, close cooperation with the customer. That's why we opened a new consignment stock at Siparila's own site in November 2018. At the moment, the operations are being launched and the first experiences have been very positive, says Timber Sales Manager Ilpo Yrjölä.
A family business inspired by genuine wood

Siparila, a family business founded 15 years ago, says that it is dedicated to high quality Finnish wood. The company takes inspiration for from the versatile features of wood, and use their expertise to create amazing solutions for all types of premises and buildings.

- Siparila Oy is proud to be the industry leader. We help our customers utilise the best features of wood to enhance the decorating and constructing experience for both home decorators and professional builders, says Juha Sojakka.

The most important thing for Siparila in working together with UPM Timber is the excellent raw material: Finnish whitewood from UPM sawmills is of such high quality that it enables global competitiveness. In addition to the domestic market, Siparila also exports its products to countries including Japan, the Netherlands, Canada, England, Germany and the Nordic countries.
The Helsinki Olympic Stadium gets new timber cladding

One of the ongoing projects at Siparila is the restauration of the wooden exterior of the Helsinki Olympic Stadium. The exterior cladding of this national monument of cultural and historical interest will be carried out sensitively to keep it as close to the original as possible and is due to be completed by the end of 2019.
- After the re-opening of the Helsinki Olympic Stadium, it's exterior will look similar to how it did at the time of the 1952 Olympic Games. Finnish PEFC-certified, fine-sawn spruce is being used for the cladding. The finely textured surface provides better adhesion for paint than an unfinished coarse surface, giving it enhanced weather resistance in harsh conditions, says Juha Sojakka.
The total area of the external cladding is 9,000 m2, requiring 500m3 of spruce and it has been calculated that this will trap up to 500 tonnes of carbon dioxide over its service life.
- The work needs to be carried out sensitively and the project calls for true craftsmanship and forward thinking – it's important to keep potential future care and restoration of the cladding in mind, says Olli Prättälä, Sales Director at Siparila.
Responsibility as part of everyday life
UPM Timber and Siparila both emphasize the importance of responsibility in all their business. Timber products and wood have a long tradition in Finnish construction, and it is important to preserve and further develop this to meet today's needs. Both companies are strongly committed to complying with industry-specific regulations and recommendations that will enable ecological, healthy and natural use of wood in construction and interior design, both today and in the future.