The carbon footprint statements and environmental declarations published by UPM Timber help customers better understand the environmental impact of the company's sawn timber products and mills.
The use of wood in construction and manufacturing is on the rise – and for good reason. Wood is a natural, renewable, safe, and recyclable alternative to manmade materials such as steel and plastic. The benefits do not end there: interest in wood is rising thanks to its positive climate effects.
Wood differs favourably from other materials in that it absorbs carbon dioxide while it grows. Carbon is not released into the atmosphere even after a tree is harvested but remains stored in wood products for up to hundreds of years. Replacing fossil-based materials with wood can therefore help effectively reduce CO2 emissions, for example, in construction and furniture production.
The quest for sustainable solutions requires reliable information on the impact of the different options available. To meet this need, UPM Timber has published carbon footprint statements for its sawn timber products as well as environmental declarations for its sawmills.
"We want to provide our customers with useful information on the environmental impact of our products. Our carbon footprint statements show how much carbon dioxide a cube of sawn timber stores over its entire lifecycle and how much carbon dioxide is emitted in its production. These calculations can be used to determine the carbon footprint of a building, for example," says Eeva Laaksonen, UPM Timber's Quality and Environment Manager.
"The environmental declarations for our sawmills, in turn, enable everyone to verify that we operate responsibly and transparently. The information in the documents helps our customers make sustainable choices."
Sawn timber is carbon-positive
"Carbon footprint" refers to the total amount of greenhouse gas emissions generated by a product or an activity throughout its entire lifecycle. When assessing the impact of wood products, both the amount of emissions generated during its production and the amount of carbon stored in the product have to be taken into account.
UPM Timber's calculation of its sawn timber's carbon footprint is based on a model developed by the Confederation of European Paper Industries (CEPI), using formulas provided by the International Panel on Climate Change (IPCC). The calculations have been done for both redwood and whitewood timber and for each of the company's four sawmills in Finland. The focus is on carbon dioxide emission, to measure the impact of the most significant greenhouse gas.
"In calculating our carbon footprint, we considered all the activities related to the production of sawn timber, from the time a tree is harvested to the time it leaves the sawmill as a finished product. Sawn timber is a natural product with no added chemicals. The carbon dioxide emissions generated in its production come mainly from harvesting, transportation and energy used in its manufacture," Laaksonen explains.
The trees that UPM Timber use as raw material grow for 60 to 80 years before they are harvested. While they grow, they continuously absorb carbon dioxide from the atmosphere.
"There are very small differences between tree species. The amount of carbon dioxide stored by our redwood and whitewood sawn timber during their lifecycle is significantly higher than the amount of CO2 emissions generated during their production," Laaksonen notes.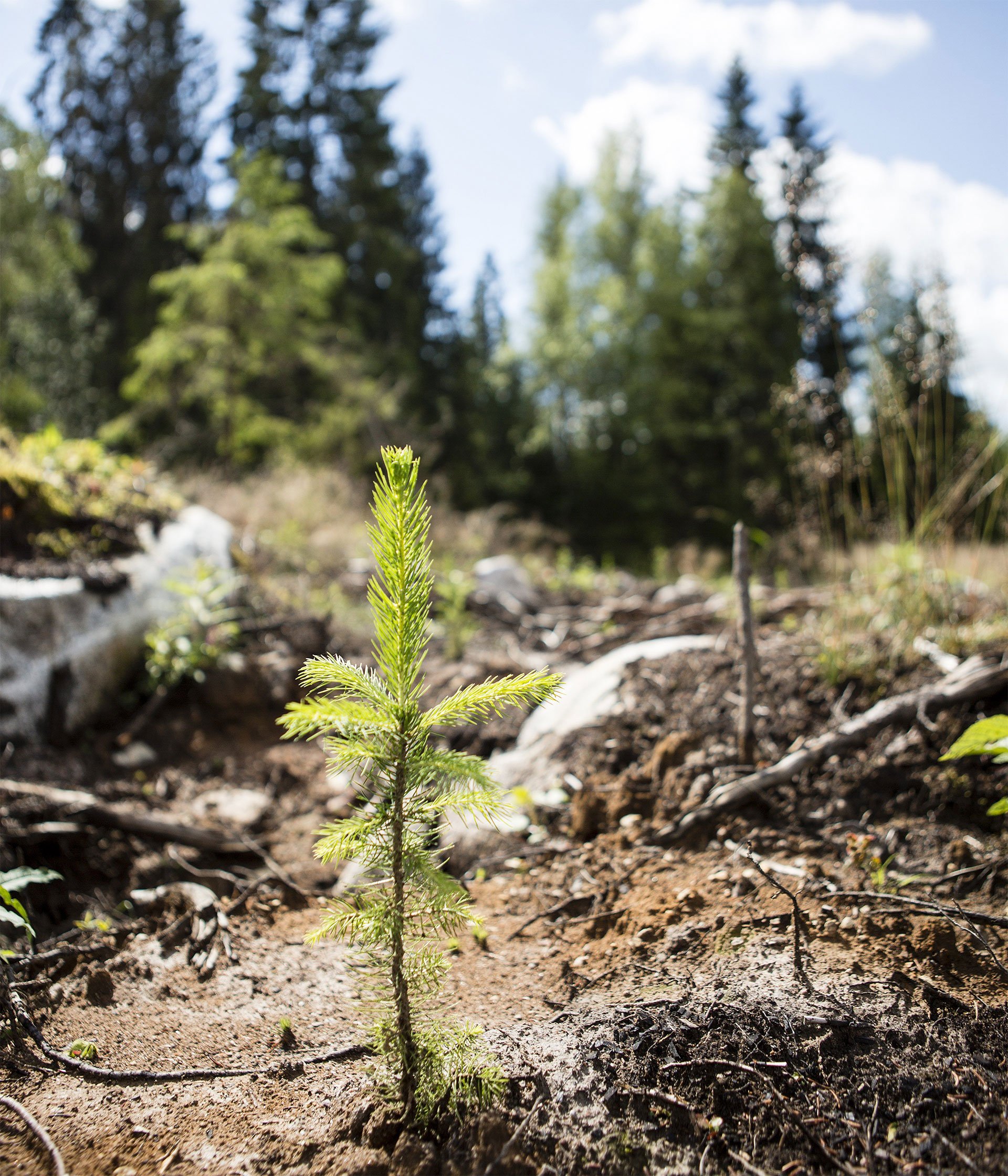 Sustainably produced right from the start
When it comes to wood-based products and materials, it is important to ensure that their raw material comes from responsibly and sustainably managed forests. UPM Timber supplies its customers with sawn timber made from wood that is sourced from PEFC (PEFC/02-34-05) or FSC® (C086359) -certified Finnish forests. Moreover, UPM Timber's production process has been optimised so that no landfill waste is generated. Wood chips and sawdust are used as a raw material for pulp while other side streams are burned for energy.
The newly published environmental declarations for the sawmills demonstrate UPM Timber's commitment to responsibility and transparency.
"Our customers can verify from the documents such details as the wood sourcing area of each sawmill and the amount of water and energy used to produce a cube of sawn timber. The documents also include our quality and environmental certifications. The data in the declarations is the same information that UPM provides to environmental authorities as part of its Group-level reporting," says Laaksonen.
According to Laaksonen, the carbon footprint of UPM's sawn timber and the environmental impact of the sawmills were calculated for the first time more than a decade ago. "Now that there is a demand for this information all over the world, we will update our calculations and declarations every year."
You can find carbon footprint statements for UPM Timber's sawn timber products as well as environmental declarations for its sawmills here: https://www.upmtimber.com/sustainability/certificates/
Text: Janne Suokas