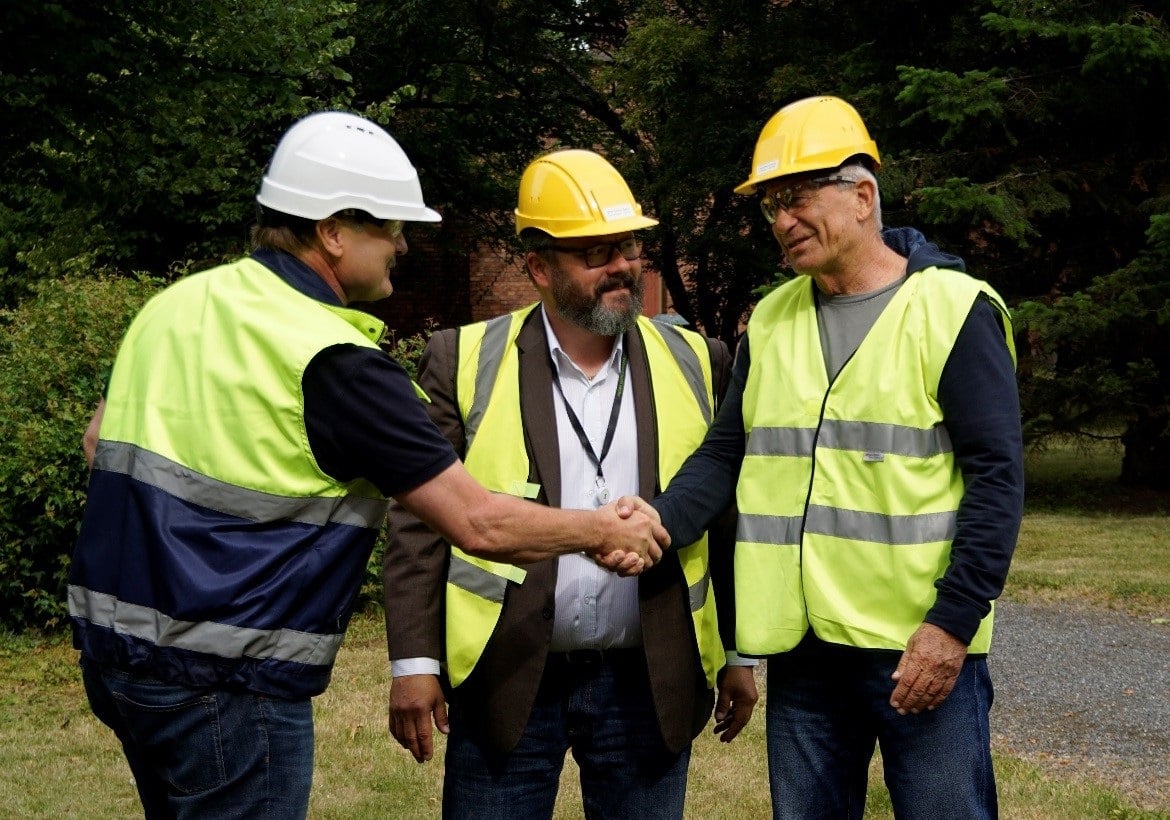 Long-term cooperation between companies brings new opportunities for development and creates added value for both parties. UPM Timber utilizes such relationships to enable us support our customers in continually developing their businesses.
The 40 year collaboration between sawn timber importer Brotim – Marketing (1984) Ltd, and UPM started during the 1970s when both companies were operating under different company names. The relationship has grown over the years, developing into a profound partnership. Today, UPM is the company's biggest Finnish sawn timber supplier with around 60 % of Brotim's Finnish supply coming from UPM's sawmills.
Brotim has made UPM their number one choice because we can be relied upon for stable product quality, on-time deliveries and positive cooperation. "Daily open conversation and the first-class customer service are a great advantage and one of the things I value the most in our cooperation with UPM. UPM timber's stable quality, the good specifications, and their efficient and on-time deliveries are essential for our business," comments Zvika Ben-zvi, owner of Brotim.
Visits sustain partnerships
Customer visits play a key role in effective cooperation. Jarkko Pulkkinen, who looks after the Brotim account commented "With a close family business like Brotim, open discussions and a deep understanding of one another's businesses are important. Customer visits play a key role in this; Brotim often visit us in Finland, and I often visit them in Israel where they always have a Finnish flag flying to greet us".
With his frequent visits to Finland, Zvika feels like Finland is his second home. By June, he had already travelled to Finland three times this year. During his most recent visit, a surprise had been planned for him at Seikku sawmill. Zvika was invited to plant a spruce seedling from UPM's Joroinen nursery to honor the long partnership between Brotim and UPM and to celebrate his 70th birthday. The spruce will be there for the next generations to admire as a reminder of the enduring partnership.
Zvika commented "My friends from UPM wanted to celebrate my birthday and this wonderful opportunity came as a total surprise to me. I am very grateful for this recognition and proud that the small seedling will grow into a strong tree that can be shown to the next generation in our business."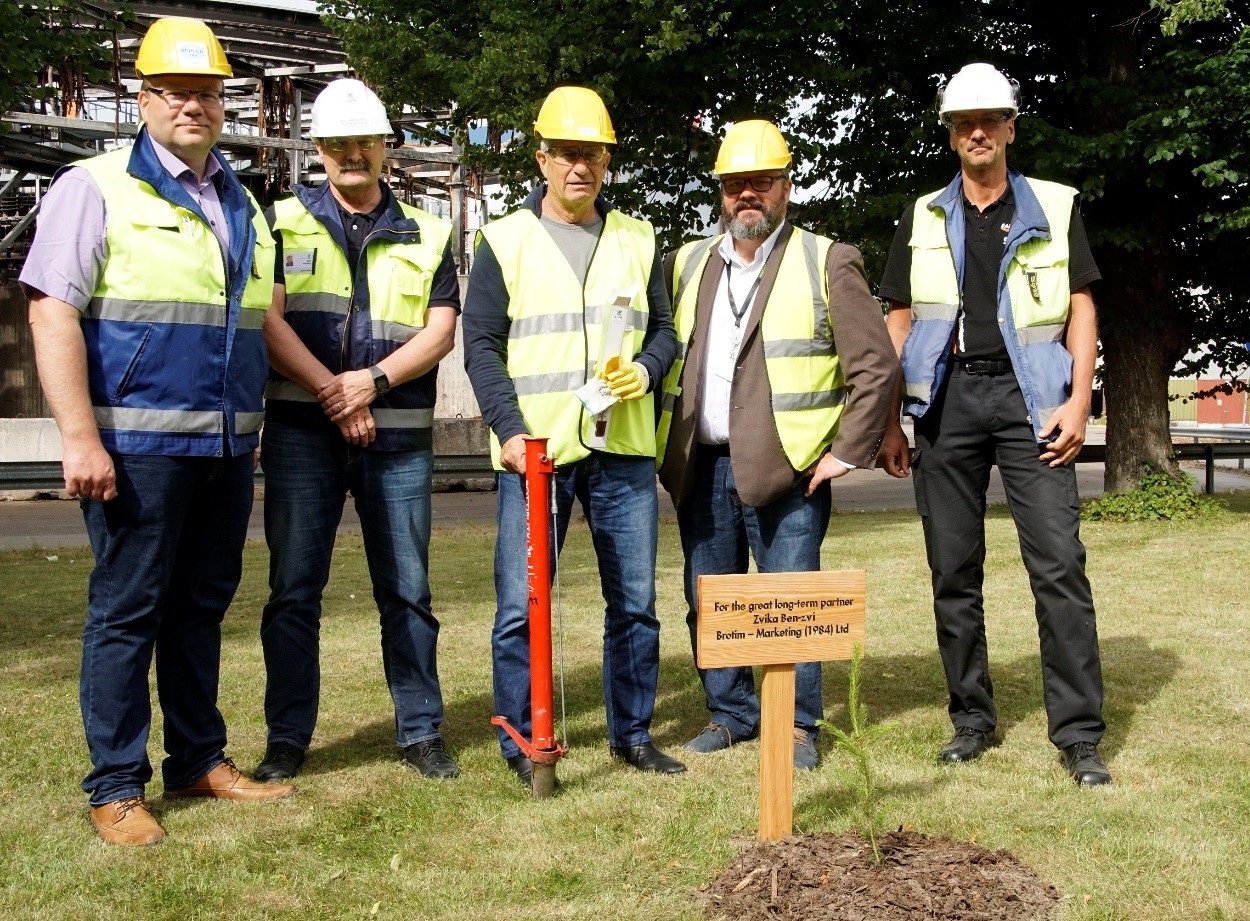 Zvika Ben-zvi planting his own spruce seedling at Seikku sawmill. Picture: From left to right: Jarkko Pulkkinen, Matti Nordberg, Zvika Ben-zvi, Mikko Hyvärinen and Tommi Marjanen.
Cooperation evolving to encompass others
Cooperation has developed over the years to encompass other companies under the same ownership. Last spring, over 200 people were invited to the opening of Brotim's subsidiary's new logistics centre in Northern Israel. Honorary guests included the Israeli minister, and UPM Timber sales director and Supply Chain Manager Jarkko Pulkkinen who was invited to give a speech about the valuable cooperation between the two companies at the event.
According to Zvika, UPM Timber is a trustworthy partner to develop business with. "We are more than partners, we are always planning the future together and creating something such as new products and transport opportunities. We have a perfect partnership for us to continue to drive the development of activities in our business for many years to come."
Brotim – Marketing (1984) Ltd is one of the biggest sawn timber importers in Israel. The family business imports sawn timber primarily from Finland, focusing on softwood timber. Brotim is part of a big group of companies under the same ownership with different activities. Their customers are mainly retailers such as one of their subsidiaries which is the biggest sawn timber retailer in Israel.
Brotim is the seed of Mr. Ben-Zvi's businesses in Israel. Over the years Zvika sought for potential ventures which led to founding additional subsidiaries that have become major service providers in Israel. Etz Ve Etza provides varied wood related solutions to commercial and private customers. ORSHAR Bonded warehouse (1985) is one of the leading logistics service providers serving the largest retailers and wholesalers in Israel. Furthermore, Zvika expanded its logistics capabilities and ORSHAR Romania was founded which is a large logistics center with frozen storage abilities. As being a customer oriented, Zvika chose to enhance the supply chain solutions. He founded a company called ORSHAR International Freight forwarding and Customs brokadge agent that moves thousands of shipments annually and is serving numerous domestic and foreign customers. Zvika's vision became a reality in which customers can receive a "one stop shop" service starting at the point of purchasing product and delivering it to their final customer simply by sitting behind the desk.