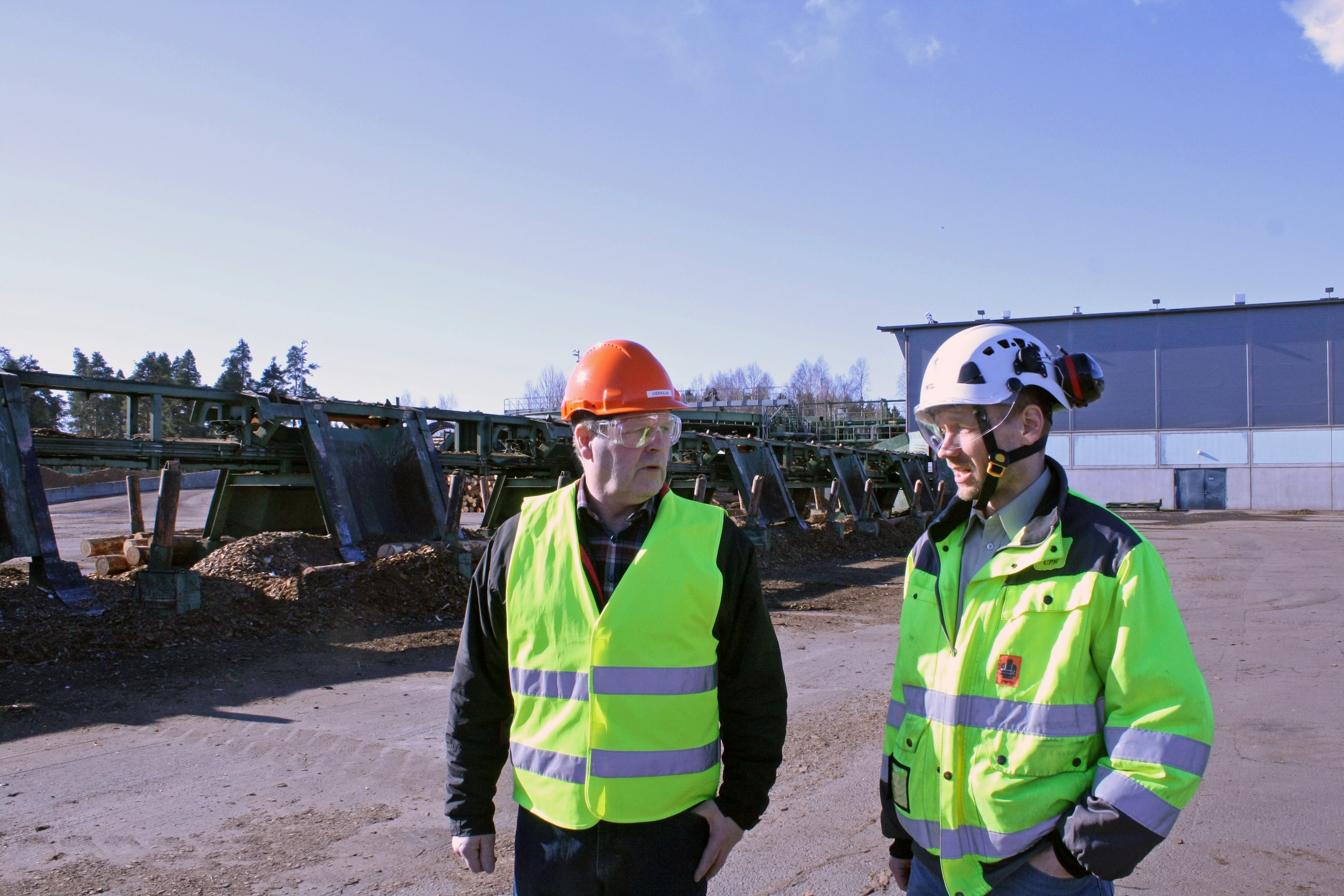 Some people think that most Finnish wood nowadays end up in a pulp mill boiler. However, this is not the case. Traditional sawmills continue to flourish, producing increasingly large amounts of timber for further processing, for example, as raw material for the construction industry around the world, or for the Chinese furniture industry. This is what happens to trees grown by Heikki Soikka, a private forest owner from Juupajoki, Central Finland.
Have you thought about how Finnish wood end up in factories that make wood products? It is a multi-stage process: the trees are sold, harvested from the forest and transported to the sawmill where it is sorted into different sawing classes. Then the actual sawing starts, which also goes through many different stages: fresh sorting, sawing and drying. Finally, the timber is sorted into different customer grades, after which it is packed and delivered to the port for shipping.
Today, an increasing proportion of this timber is shipped across the oceans to its final destination, as demand for Finnish wood, especially in Asia, has increased. Korkeakoski sawmill timber is transported not just to Asia but also to North Africa, across Europe and, of course, to factories in Finland. The main customer segments are the construction, furniture and packaging industries.
The head of UPM's Korkeakoski sawmill, Sami Kotivuori, explains that change in the quality of Nordic wood has led to its popularity in China. "The Chinese market has grown because of the quality of Finnish wood. Finnish redwood is in demand because of its strength and visual appearance." There are also a number of other reasons for China's growing demand for wood, such as increasing disposable income and the end of the country's one-child policy. Chinese legislation was also tightened a few years ago so that all children's furniture must be made from solid wood. "In this sense, too, our sustainable and high-quality product is well suited for demand in China," Kotivuori continues.
Trust and flexibility underline collaboration with UPM
Heikki Soikka, a private forest owner, is a UPM's Forest Services customer. The 150 hectares of forest he looks after in Juupajoki has been in their family for generations.
Soikka has sold wood exclusively to UPM. "As a forest service customer, my interests are so well looked after that I have not had to find other partners. The relationship I have with UPM's forestry expert that has looked after my property for almost two decades is built on trust. In addition, there's always been room for flexibility, which is something I appreciate," he says.
Some forest owners who sell their wood to the sawmills know where their wood will end up, while some are left guessing. Soikka sometimes wonders whether the furniture used in China was made from his trees. As he is interested in technology, Soikka has visited the sawmill a few times to see what actually happens to the wood brought there.
Heikki Soikka's logging operations have been smoothly carried out by UPM and its subcontractors. "I like to go to the woods after felling, because it's great to see the new shoots start to grow," he says.
Sustainability means zero waste
As environmental awareness increases, sustainable development is becoming ever more important in the sawmill industry. At UPM's Korkeakoski sawmill, this can be seen, for example, in its zero waste goal.
"We strive not to waste anything, but to utilise all timber by-products, such as wood dust, chips and bark. In addition, the maintenance materials are recycled, and metal is sorted to be reused," Kotivuori points out.
Responsible use of forests unites UPM and private forest owners: it is very important to manage forests in accordance with the principles of sustainable forest management, in compliance with laws, regulations and certification criteria. Good forest management has doubled the growth of Finnish forests in the last 50 years.
Kotivuori sees regular felling as a good thing, because if we don't cut down trees, the forest will not be renewed either. "When talking about carbon footprints, sawn timber is one of the best products because it stores carbon throughout its lifetime. Logging is necessary because it promotes the growth of forests through renewal," he emphasises.
Kotivuori points out that wood is an excellent building material. "For example, a house built from wood stores up to 50 tonnes of carbon, which is equivalent to an average European's five-year carbon dioxide emissions."
Text and photo: Valma Korhonen