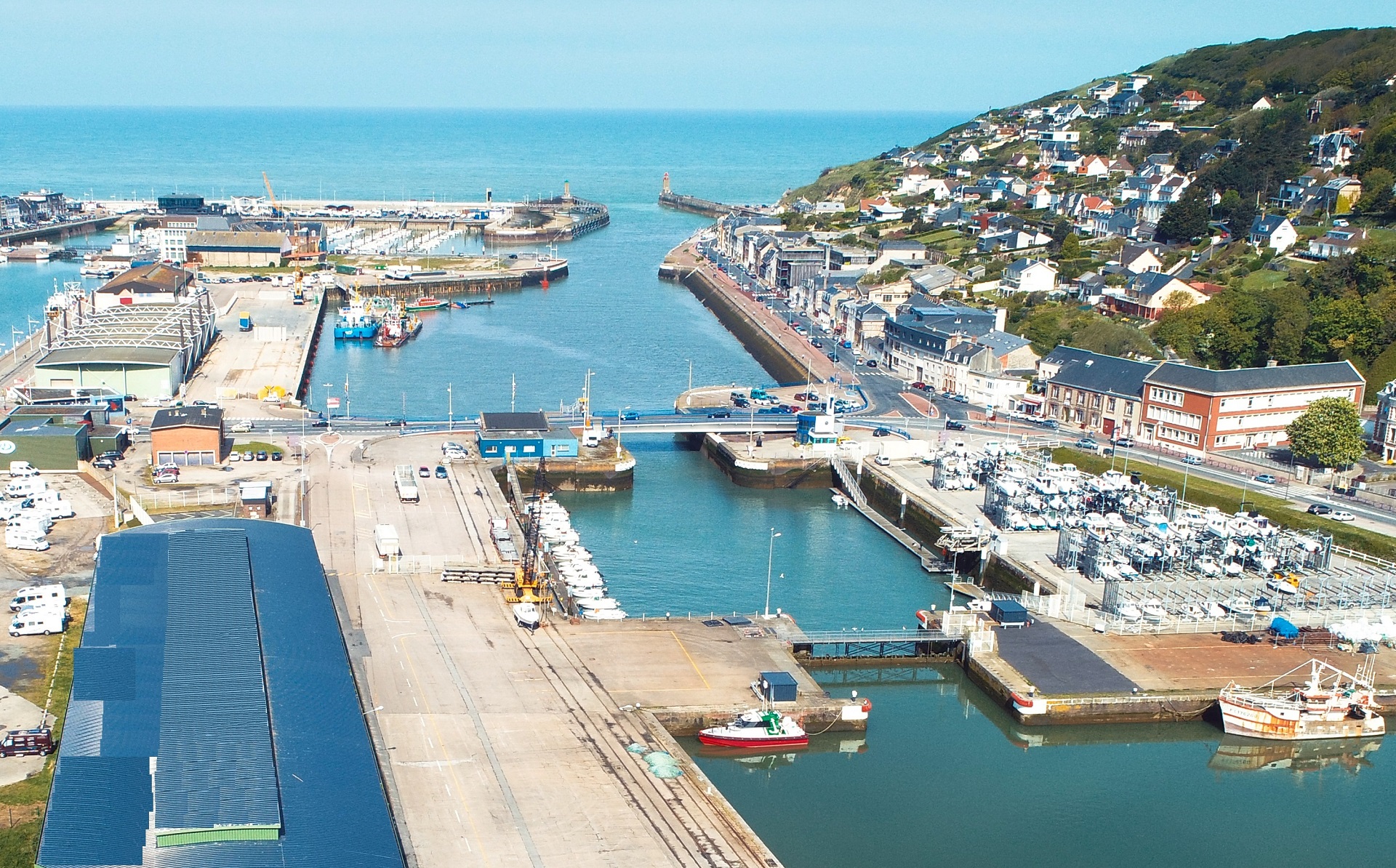 Our timber terminal operations play a key role in fulfilling our customer promise and our target is to provide a comprehensive service portfolio to our customers. Terminal operations enable UPM to support our customers' purchasing requirements by providing exceptional delivery services. With strong partnerships with logistics suppliers like Sarrion and SEA-invest we can secure on time deliveries and offer customers tailored services.
"UPM Timber's goal is to have satisfied customers who can rely on us in every situation. To be able to give confidence and flexibility to our customers' businesses we are willing to go the extra mile and continuously develop our operations. We are aiming to provide the most comprehensive service portfolio including efficient and reliable terminal services," says Mikko Hyvärinen, Director of Sales and Supply Chain Management.
UPM Timber started its first timber terminal operation in the UK at Hull in 2002 and established a second terminal in Tilbury in 2004. These were later expanded to France at Fécamp in February 2017. With our terminal operations in France and in the UK we can fulfil our customers' requirements beyond expectation. We can offer even better services by providing an excellent pick-a-pack service and guaranteeing deliveries within 48 hours.
Developing our partnership
Our logistics partner Sarrion visited UPM in March to extend our partnership and develop our terminal operations in Fécamp in France.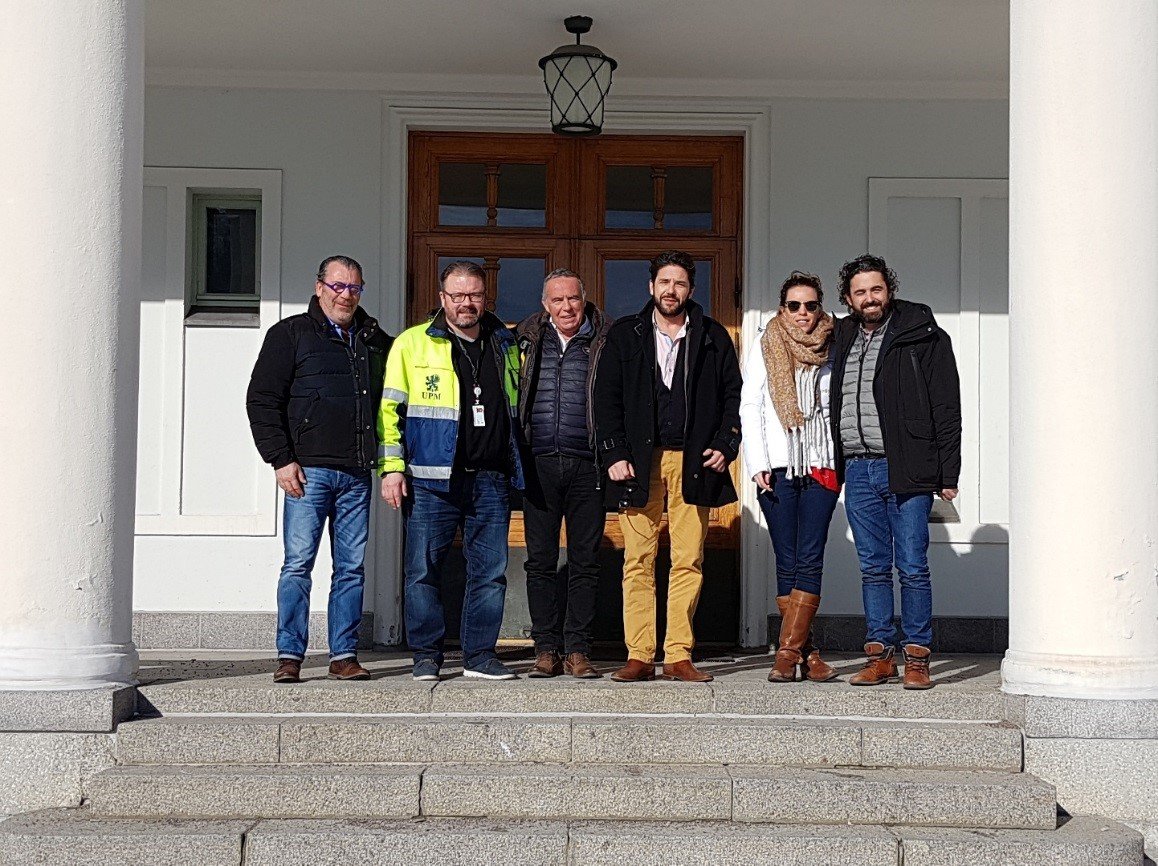 The visit started at the Kaukas Club House, where the Kaukas mills originally ran. Picture: From left to right: Jacques Ferron, Mikko Hyvärinen, Franck Sarrion, Emmanuel Danieau, Sarah Sarrion and Sylvère Sarrion.
Sarrion has many years of experience with UPM and both companies' high sustainability values will strengthen their future plans. During their visit they became acquainted with the UPM Kaukas integrated mills to consolidate their knowledge on Kaukas sawmill operations. "We are aiming to nurture our partnership with Sarrion. We wanted to show how UPM is operating as a whole company and how our sustainability values are shown through circular economy in Kaukas," says Emmanuel Danieau, Area Director of Continental Europe.
In addition to the extensive UPM Kaukas site tour, Sarrion visited the head office of UPM in Helsinki to discuss the logistics process. "We had great strategical conversations about the development plans for Fécamp and how we could extend this partnership. These face-to-face meetings help us to understand each other's operations which is crucial for proficient development work," says Erkki Pietikäinen, Manager of Logistics and Sales Network.
Services beyond expectation
The Fécamp terminal plays an important role for us to be our customers number one choice in France. It offers the opportunity to get deliveries within 48 hours which is a huge advantage compared to the 10-day direct deliveries.
"Fast deliveries and other flexible services that the terminal provides is creating added value and is business critical for some of our customers. In addition, it enables customers to trial different products in smaller quantities. Customers are also able to mix redwood and whitewood products and maximise individual loads. The location of Fécamp is also excellent especially for our strategical customers," says Emmanuel.
The timber terminal operation in Fécamp has an excellent reputation thanks to good logistics management. The operations have continued to develop since last year's spring and currently there are two vessels arriving monthly into Fécamp from different ports in Finland. "Thanks to deliveries to the UK and France we are able to optimise the capacity of the vessels with sawn timber and pulp from Hamina, Rauma and Pietarsaari ports. With our partner SEA-Invest we have a great storage conditions and can offer excellent service," commented Emmanuel.
"Strong partnerships with Sarrion and SEA-invest mean that we can secure on time deliveries and offer customers flexible services. Through continuous development and cooperation with strong partners we can fulfil our promise to customers even further by serving our customers better and faster. We want to be ready for market changes, either positive or challenging, and be the most reliable partner in future challenges for our customers," says Emmanuel.
The Sarrion Group is originally a family business founded in 1917. Today they have 800 employees in 24 branches and subsidiaries throughout France. Sarrion provides a wide range of activities such as haulage, container, storage and logistical services. The company specialises in wood and paper pulp and is located at the main national ports.