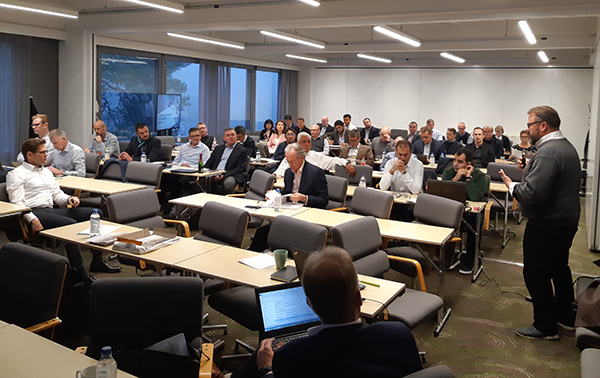 UPM Timber's international sales team and strategic market agents convened once again in December to bring together the successes and challenges of 2018 and to look ahead to 2019. The main goal of the two-day event was to prepare carefully for sales work and customer service in 2019, and further deepen cooperation across the Timber organization. Setting sales targets was a central focus of the meetings and enthusiastic debate focused on our sales and pricing strategies as well as our customer management.
The meeting was held in Espoo, Finland, in early December, in the beautiful forest surroundings of Hotel Korpilampi. UPM Timber's management were joined by domestic and international sales personnel and agents for the annual event. The meeting is the most important event for our sales staff and it includes sharing best practices and doctrines among colleagues, as well as striving to ever-better service for our customers.
This year, the event began with a quiet moment in honor of Heikki Vappula, the Executive Vice President of UPM Biorefining, who passed away in a plane crash in late 2018. "We owe a debt of gratitude to Heikki who was a visionary and inspiring executive, always hungry for results. His insights and energy will be greatly missed by colleagues as well as business partners around the world," said Jussi Pesonen, President and CEO of UPM after the event.
In addition to the important sales and customer-related issues, we were also able to relax during the meeting days, enjoying good food, conversation, music and singing. After a very successful event, we start 2019 with enthusiasm!