UPM Timber's terminal operations play a key role in fulfilling our customer promise and our target is to provide a comprehensive service portfolio to our customers. Terminal operations enable UPM to support our customers' purchasing requirements by providing exceptional delivery services. With strong partnerships with logistics suppliers we can secure on time deliveries and offer customers tailored services.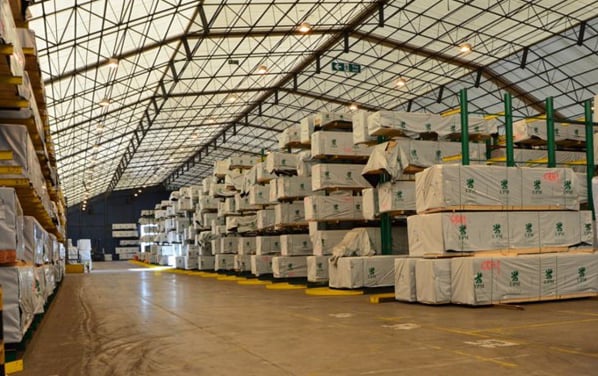 - UPM Timber's goal is to have satisfied customers who can rely on us in every situation. To be able to give confidence and flexibility to our customers' businesses we are willing to go the extra mile and continuously develop our operations. We are aiming to provide the most comprehensive service portfolio, including efficient and reliable terminal services, says Mikko Hyvärinen, Director of Sales and Supply Chain Management at UPM Timber.
UPM Timber started its first timber terminal operation in the UK at Hull in 2002 and established a second terminal in Tilbury in 2004. These were later expanded to France at Fécamp in February 2017. With our terminal operations in France and in the UK we can fulfil our customers' requirements beyond expectation. We can offer even better services by providing an excellent pick-a-pack service and guaranteeing deliveries within 48 hours.
Services beyond expectation
In the UK, 40% of UPM Timber's volume is nowadays sold through terminal pick-a-pack business. The terminal stocks help broaden the specification from UPM sawmills and we are able to provide consistent quality using timber from all four UPM sawmills. Tilbury terminal gets one ferry shipment per week and Hull terminal two charter vessels per month, one via Kotka and one via Rauma. The pricing of the timber is competitive and flexible. Both wood certifications FSC and PEFC are available.
- Our UK terminals are logistically very well situated. They enable deliveries within 24 to 48 hours anywhere in UK. Our sales staff is experienced, and we are able to offer a wider selection of sizes than we would be able to do without the terminals, explains Jason Enticott, Area Director of the UK.
Latest addition in Fécamp
The Fécamp terminal plays an important role for UPM Timber in reaching our target to be customers number one choice in France. It offers the opportunity to get deliveries within 48 hours which is a huge advantage compared to the 10-day direct deliveries.
- Fast deliveries and other flexible services that the terminal provides is creating added value and is business critical for some of our customers. In addition, it enables customers to trial different products in smaller quantities. Customers are also able to mix redwood and whitewood products and maximize individual loads. The location of Fécamp is also excellent especially for our strategic customers, says Emmanuel Danieau, Area Director of Continental Europe.
The timber terminal operation in Fécamp has an excellent reputation thanks to good logistics management. The operations have continued to develop since early 2017 and currently there are two vessels arriving monthly into Fécamp from different ports in Finland.
- Thanks to deliveries to the UK and France we are able to optimize the capacity of the vessels with sawn timber and pulp from Hamina, Rauma and Pietarsaari ports, comments Emmanuel.
- Through continuous development we can fulfil our promise to customers even further by serving them better and faster. We want to be ready for market changes, either positive or challenging, and be the most reliable partner in future challenges for our customers, summarizes Mikko Hyvärinen.